CPR Nashville
600 Old Hickory Blvd.
Suite 100 B
Nashville, TN 37209
Phone: (615) 638-0005
Email: info@acls-bls-nashville.com
Driving Instructions
We are located in west Nashville in the Bellevue area.
We are just down from where highway 40 crosses Old Hickory Blvd.
We are in a small strip mall plaza with the StorPlace storage facility.
There is a red sign over our door that says CPR in large letters.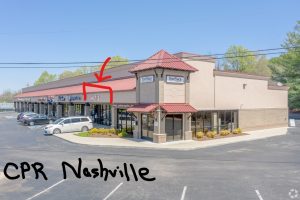 –